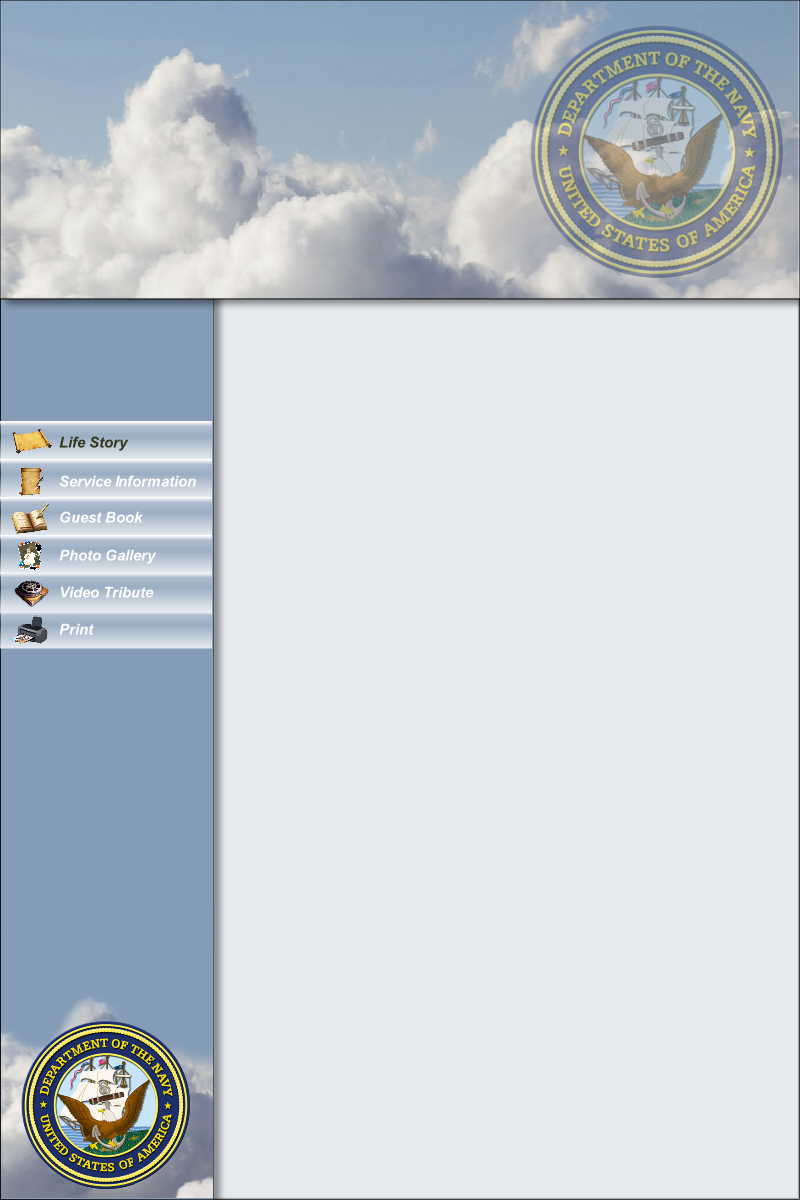 Wakeeney - Bob L. Critser, age 91, passed away peacefully on November 12, 2018 at his home in WaKeeney. Bobby Lee Critser was born in Coffeyville, KS on July 24, 1927, he was the first child of Kenneth Marion and Audrey Lorine (Kuder) Critser. He was baptized on March 5, 1944 at the Coffeyville Christian Church and was raised there until his family moved to Great Bend, KS. Bob joined the U.S. Navy in November 1944, during his senior year of high school. He attained the rating of Petty Officer 3rd Class MoMM. He served aboard the USS LSM(R)523 and USS LSM(R)519 and was honorably discharged July 1946. He married Ruth Mae Nuss on August 2, 1946 at the Lutheran Church in Great Bend.
Bob worked in the oil field and for a local farmer, Hendricks's Funeral Home and Furniture store and Coast to Coast store. Bob and Ruth owned the Coast to Coast store In WaKeeney 1967-1973. In 1973, they moved to a farm three miles south of WaKeeney and Bob loved farming his land. Bob and Ruth enjoyed traveling together in their motor home.
In 1980 Bob was awarded "Kansas Farmer of the Year" and "Bowhunter of the Year" by the Kansas Bowhunters Association for his interest in conservation and improvement of the land for wildlife. In 1981 he received the Trego County Wildlife Habitat Conservation award. In 2012 received an Honorary Diploma from Trego Community High School. He was a dedicated Hunter Safety Instructor for 25 years. Bob was most at home when he was outdoors. He was an avid fisherman, bow and firearms hunter. He shared his passion for fishing and hunting with his family and friends.
Bob was a member of Bethlehem Lutheran Church, lifetime member of the VFW, American Legion, and Lions Club and former member of FOE Aerie 3774, Cedar Bluff Lake Association, Kansas Bow Hunters Association and charter member of Kansas Ninnescah Valley Archers.
He was a beloved husband, father, grandfather and great grandfather, whose zest for life and Servant's heart will be greatly missed by not only his family but by the community. He is survived by his treasured wife of 72 years, Ruth; loving daughters Lorine (Jim) Kuhn of Kingsland, TX, Connie (Ron) Herdt of Smith Center, KS, Nancy (Ron) Nichol of Hill City, KS, Audrey (Ed) Macke of WaKeeney, KS, his cherished sister Gloria Marsh of Pratt, KS, 18 adoring grandchildren, 31 precious great grandchildren and numerous relatives.
He was preceded in death by his parents, infant daughter Pearl Mae Critser and sons Marion Douglas Critser and John Eric Critser. Funeral services will be held at 10:30 a.m., Saturday, November 17, 2018 at the Bethlehem Lutheran Church, WaKeeney, with Pastor Randy Gibbs officiating. Visitation will be held Saturday from 8:00 a.m. until service time at the church. Burial will take place in the WaKeeney City Cemetery, WaKeeney, with military honors provide by the U.S. Navy. Memorials may be given to the VFW Post 3449 or Bethlehem Lutheran Church, both of WaKeeney and can be sent in care of All Faiths Funeral Chapel, 113 S. Madison St., Smith Center, KS 66967.
July 24, 1927

November 12, 2018